Berest Dance Outreach Program


DANCE FOR JOY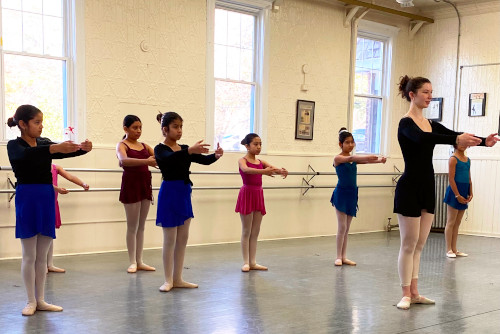 When students enter Berest Dance Center, dance is the only thing that matters. Differences disappear, anxieties are left at the door, and all ages and nationalities become one in their passion for dance. The comradery is obvious at first glance into a class.
We are dedicated to supporting and guiding students toward finding their highest potential. Along with comprehensive ballet training, Berest offers opportunities to study multiple genres of dance, including modern, contemporary, improvisation lyrical, jazz, musical theatre, broadway dance, tap and hip-hop. We want our students to find their voice by discovering the many styles of dance we offer.
In 2021 the Berest Dance Center introduced Dance for Joy, an opportunity for young dancers with financial need to enjoy free lessons and experience the many benefits of dance. The program delivers a curriculum for students to grow proficient in dance techniques that are refined through creative repetition and integration into sequences , combinations and performances that become more sophisticated over time.
DFJ's main goal is to empower students who could not otherwise afford classes with a passion for dance by nurturing their artistic ability, their confidence in dancing, and their desire to pursue dance in its many genres.
We invite you to contribute to fund tuition and dancewear costs and continue classes for students who otherwise could not afford lessons. Your donation can help invite new students into our studio and continue programming for our current dancers, who will advance to higher levels of instruction in the coming Fall.
Every gift of any size means so much to our students. Your donation to Berest Dance Center will help us foster the dreams of our dedicated young dancers and will sustain our vision of giving young dancers a bright future in the arts.
Donations to Unique Projects in support of the Berest Dance Center's Dance for Joy Outreach Program are tax-deductible using the "Donate Now" or PayPal link below. If donating via check, please make the check payable to Unique Projects, Inc. and note BDC in the memo.
Donate Now:
We are proud to have Unique Projects/Pentacle Inc. as our fiscal sponsor.
Inaugurated in 1988, Unique Projects, Inc. is a program created and administered by Pentacle/DanceWorks, Inc. Unique Projects, Inc. is a 501(c) (3) not-for-profit corporation that provides a tax-exempt umbrella and technical assistance on a project-by-project basis to artists and companies whose work is of high caliber and for whom the program's specific structure is appropriate. For additional information please visit www.pentacle.org.
Note - You may also make a non-tax-deductible donation through the Parent Portal.
Thank you for your generous support.
Your Gift Makes a Difference
$2,000 funds two full tuition scholarships - one-hour lessons for 36 weeks
$1,000 funds full tuition scholarship - one-hour lessons for 36 weeks
$500 funds half tuition scholarship - one-hour lessons for 18 weeks
$250 funds ten adult classes
$100 funds leotard, tights, and skirt
$50 funds pair of jazz shoes
$40 funds par of ballet slippers
Click the image below to read about our program